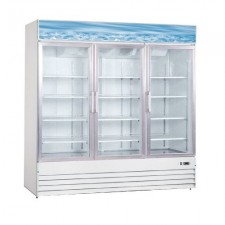 WeeTect Material Limited today announced a permanent anti-fog film manufactured from soft plastic for freezer doors.
Shanghai, May 5, 2016 (Newswire.com) - WeeTect Material Limited today announced a permanent anti-fog film manufactured from soft plastic for freezer doors. These products are now available for WeeTect authorized product resellers and distributors.
"The demand and sales of permanent anti-fog films has been incredible, and we're excited to get this film into the hands of our customers in both North America and Europe," said Taylors Lei, WeeTect's Product manager. "This is a trusted anti-fog film for freezer doors that will prevent fogging problem permanently and we are happy to be the pioneers of this product here in China."
It guarantees a groundbreaking performance in both humid and high temperature applications. This film can be applied on commercial freezer doors among other surfaces such as shower mirrors, windows and windshields.
This is a special film with an improved impact resistance and high tensile strength. It is also a versatile anti-fog solution that can be used in adverse weather conditions such as cold and hot environments.
A superior anti-fog performance as per the test method EN 168.16 makes it a perfect choice for freezer doors. Again, the film can maintain desired performance under a wide range of temperature – between -30°C and 80°C.
"Our R&D team believes a permanent anti-fog film for freezer doors is an important innovation in the refrigeration industry, more so in merchant stores or supermarkets," added Taylors Lei. "All freezer doors with this film will remain transparent, thus, improving the shopper's experience and business owners will benefit from this immensely."
WeeTect manufactured this anti-fog film for freezer doors based on a market research that was conducted jointly by both product resellers and WeeTect R&D team.
The first research mainly focused on energy consumption. It was established that on average, freezer without a permanent anti-fog film consumed an average of 3.89 kWh. After the installation of anti-fog film for freezer door, an average consumption dropped to an average of 2.54 kWh. It translated to about a reduction of about 35%.
A second research focused on in house branding and increase in sales. The results were positive for freezer doors fitted with anti-fog films. It is for this reason that most merchandise stores or supermarkets opt for this film.
These anti-fog films can also be customized depending on the requirements of the end user. This makes it a perfect choice for OEM and ODM clients.
So far, this is the best anti-fog film that provides a permanent solution to the fogging problem. However, the company has also promised to unveil other anti-fog films before the end of the year.
About WeeTect Material Limited
WeeTect Material Limited's mother company WS plastic lens has been in this industry since 1993. The company has invested in a number of face safety gears and anti-fog solutions. By 1998, they had delivered their first 1 million visors besides investing $3 million for a military face shield. WeeTect unveiled different anti-fog solutions for foggy lens, speedometers, instrument cluster and IP cameras.
Contact:
WeeTect Material Limited
E-mail: sales@weetect.com
Web site:
Source: WeeTect Material Limited
Share: